Everything You Need To Know About Video Production Costs
The first question people ask when they consider publishing videos is, "How much will it cost?" So, we're going to break it all down for you.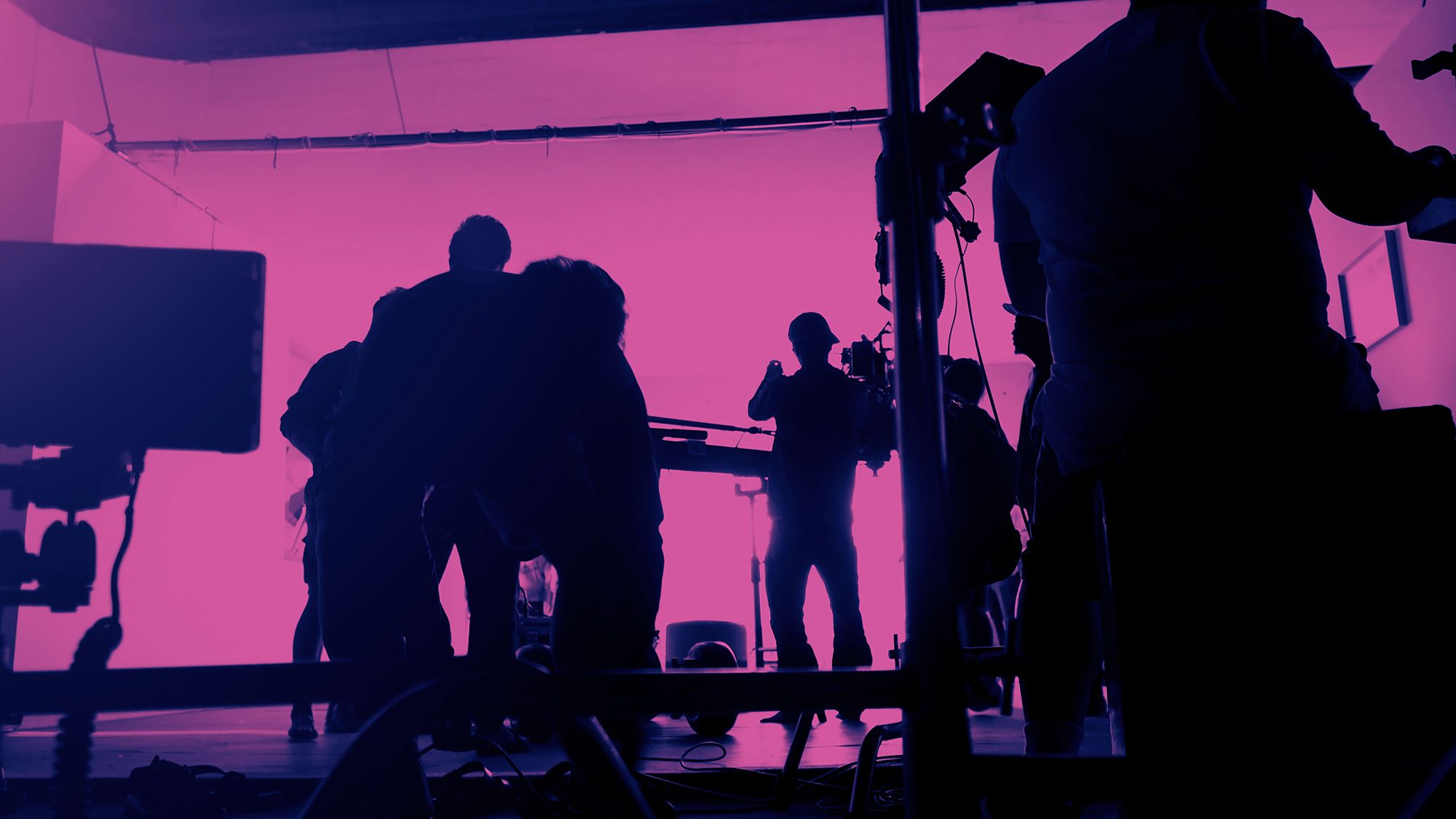 Updated in 2023
The first question brands often ask when they consider publishing videos is, "how much will it cost?" And they often assume the best way to approach video production costs is to spend less money on more videos.
But when it comes to video production, quality over quantity is the name of the game. Use your budget to produce fewer but more effective, high-quality videos because producing dozens of low-cost and low-quality videos will hurt your brand image in the long run.
Don't know how to get started and how much it will cost? We are home to more than 40,000 freelancers and production companies so we understand a thing or two about video production costs. Keep reading because we break down video production costs and how you can smartly save every step of the way.
Quality over Quantity
There are billions of hours of video content on the internet. Most of it is low-quality.
People consumed an average of 19 hours of online video content every week in 2022, according to this Statista service. So, you may wonder, "is it worth producing video at all?" The answer is yes, as long as the content is high-quality and valuable.
Whether you work for a media company or a brand, video is a powerful medium to invest in. Just invest your resources wisely, focusing on original video content made by professionals with professional equipment.
We're at a pivotal time for video. The cost of video production equipment is dropping while the number of skilled professional video freelancers and production companies is rising. Meanwhile, more consumers and decision-makers at B2B companies are watching video content that drives their purchasing behavior. Eighty-six percent of businesses use video as a marketing tool, and 93% of marketers who use video say it's a crucial part of their strategy, according to Wyzowl's "State of Video Marketing Survey." Plus, 84% of consumers have been convinced to purchase a product after watching a video. This means that you are likely to see a return on investment for your video production costs.
Unless, of course, you're churning out low-quality video that damages your brand image. Brightcove gathered some vital statistics on how low-quality video has a negative impact. They found that 62% of consumers have a negative perception of a brand after experiencing a poor-quality video, while 60% no longer want to engage with the brand and 23% hesitate to make a purchase. In fact, publishing a low-quality video is actually worse than not publishing video at all. A cheap video will make your brand seem cheap.
Unless you're churning out low-quality video that damages your brand image. Brightcove gathered vital statistics on how low-quality video has a negative impact: 62% of consumers negatively perceive a brand after experiencing a poor-quality video, while 60% no longer want to engage with the brand. 23% hesitate to make a purchase. Not publishing a video at all is better than posting a low-quality one.
Take on a quality-over-quantity model when it comes to video production. Good video is an investment that drives conversions. Whether you're making an animated explainer, a branded short doc, or a news piece, every video you produce should tell an original story. And these stories need compelling visuals, characters, personalities, and voices. All of this takes a higher production budget. But, if you get increased conversion rates from your video, it could quickly cover the costs.
If you spend, for example, $20,000 producing an explainer video, it should stay relevant content and production-wise for at least three to five years. Your video costs would average $4,000 to $7,000 per year. For these years, the explainer will help you increase conversion rates, customer engagement, and customer acquisition and create brand awareness. Including a video on your landing page can increase your conversion rates by 80%, according to this study. In email marketing, videos can increase open rates by 19% and click-through rates by 65%. If you embed a video on your website, Google may boost your ranking (so you are more likely to appear on the first page of results).
Tubular Insights wrote about animated explainer videos: "When you purchase an explainer, you're not just simply buying a video, you're paying for a proven, effective process. To put it even more plainly, you're paying for the results you're going to end up with. If you hire a company based upon their "cheapness", you'll, unfortunately, get exactly what you paid for…a cheap-looking, non-converting video."
A high-quality video strategy doesn't only apply to explainer videos. If you're a media or branded content publisher serious about video, invest in the necessary resources, such as freelancers, studio space, and equipment. Don't overspend on video production but don't waste your budget on poor-quality videos either.
How Much Does Video Cost?
The quick answer? It depends. A commercial shoot by a big-name company could cost upwards of $500,000, while a short branded documentary may cost $5,000. The type of video, filming location, crew size, range, and quality of equipment, as well as talent, will play a role in determining the cost of your video. The amount of pre-production and post-production your idea requires will also be a factor. If you want to get a sense of your budget or get a quote from a production company, the first step is to write a video production brief. Use this production brief to outline your goals for the video and the scope of the project. It's also crucial to make sure that the company you choose to work with has high-quality work samples and experience producing the type of video you want.
A good video production brief will help you outline the goals of the video and define the scope of your project. It will also help you determine the best way to go about production for your budget. You can submit your brief to several production companies and compare rates. Or you can come up with an estimated budget range and post the brief on Glimmer, letting production companies come to you. Either way, make sure that the company you choose to work with has high-quality work samples and experience producing the type of video you want.
A Breakdown of Video Production Costs & How to Save Money
Here are the factors to weigh when determining the cost of your video production:
Video Type:
What type of video do you want to produce? An animated video explaining your business requires different production skills than a cinematic commercial with actors. The higher-quality video you need, the more you can expect to spend. Spend time identifying the type of video that can best tell your brand story. In this way, you are wisely investing your money to create the most engaging outcome.
Language-learning company Rosetta Stone produced the above TVC through Glimmer. Instagram, the world's largest social media network, used Glimmer to produce this vertical mini-documentary.
Duration:
The crew and equipment will be the same whether you are creating a one or five-minute video. For this factor, the cost will not make a huge difference unless you compare a feature film with short, branded content.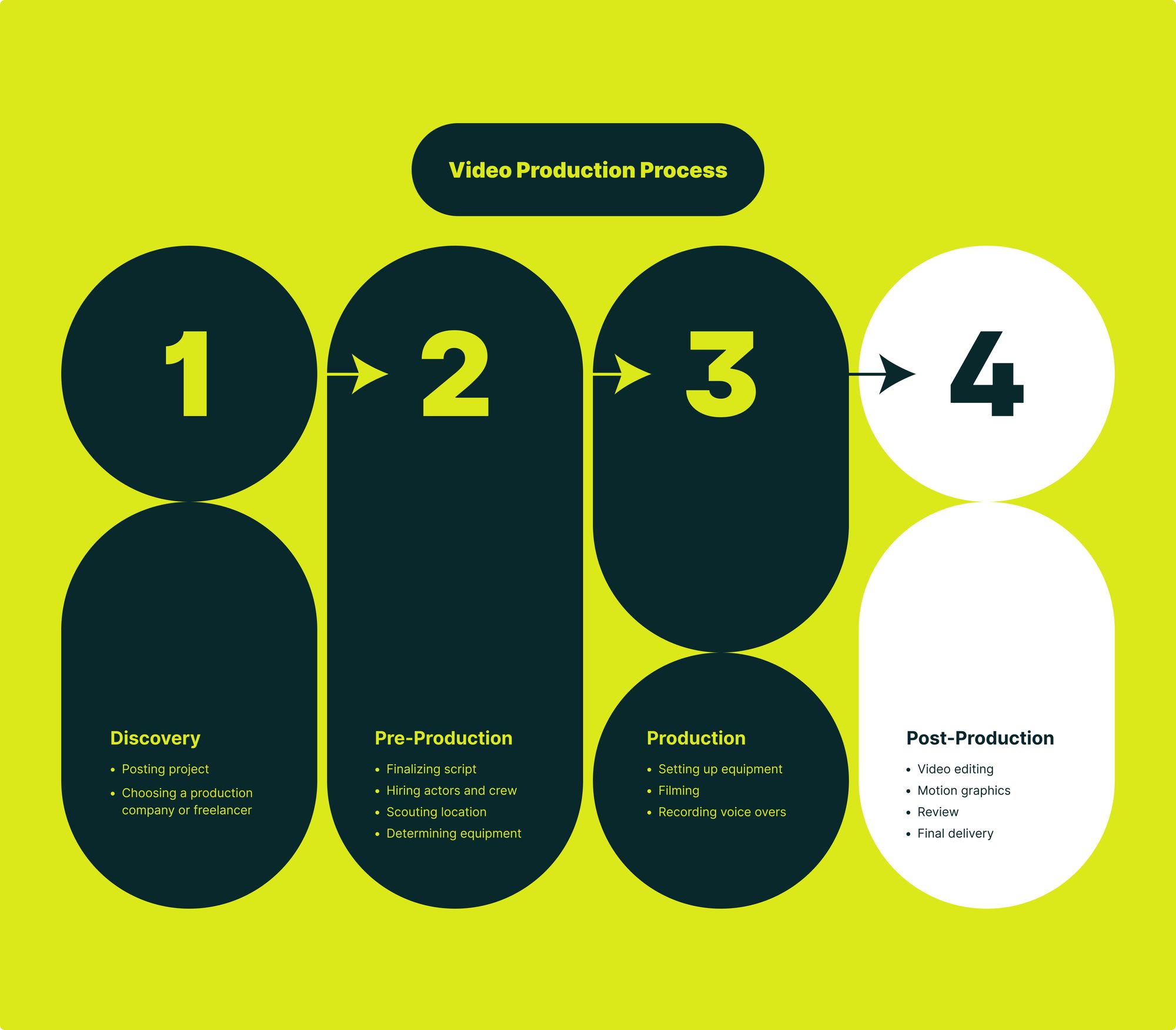 Pre-Production:
The pre-production process includes scriptwriting, location scouting, and scheduling shoots, and it can take up time and money. Many production companies offer script-writing services. But, if you're looking to trim costs, opt for writing the script in-house. You can potentially receive script guidance from the production company you've hired. Secondly, if your shoot requires you to scout a location, then you will have to adjust your budget to include travel expenses for a scout. You can avoid this cost by hiring a local production company that already has options on where to film. In short, the more intense your pre-production, the more it will cost you. (Looking for copywriters? Glimmer offers that - Check it out!)
Crew:
Production crew rates will depend on the scope of your project, type of equipment, freelancer experience, as well as the region. You can opt to hire a production company to handle the project from start to finish, which will cost you upwards of $3,000.
Here are the standard video rates for production crew members on Glimmer platform. Please note that these don't represent day rates or industry averages. These are entire project costs (let it be half day, couple of hours or several days) that range in location, duration and complexity. Take these as a reference point but the best way to evaluate your project is to post a brief and get direct quotes from available freelancers in your area.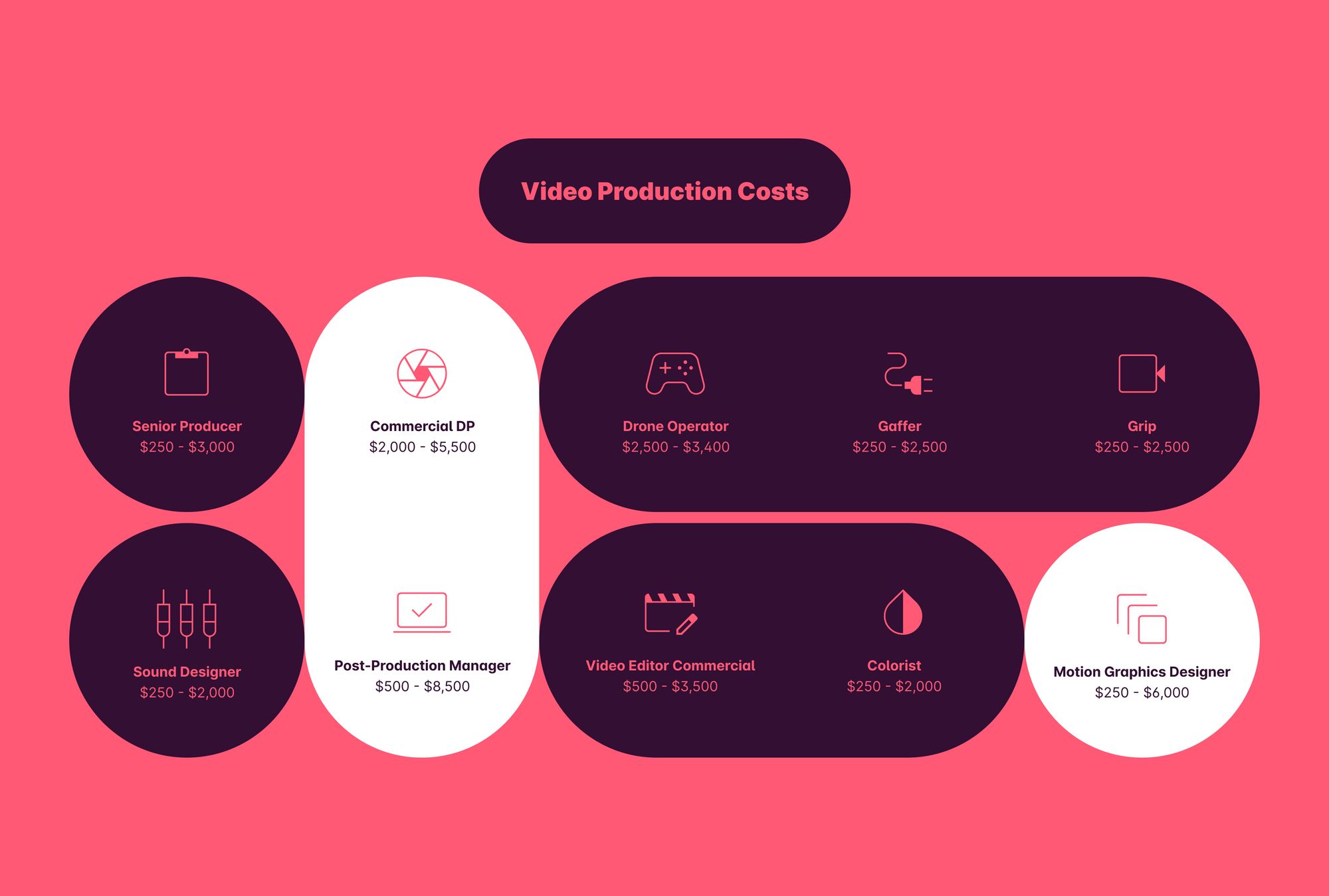 Are you looking to hire talent? If so, then this will dip into your budget. The good news? Unless you're producing a big commercial production for television, you probably won't need to worry about hiring actors, influencers, and hosts. If you're making a branded short documentary, testimonial, or product video, consider featuring your employees or loyal customers.
Time:
Time and day rates are linked. Day rates are high because they generally account for pre-production and the cost of gear. Most videographers charge by the day, so naturally, your video production costs will increase with more shooting days.
If you hire a videographer for half a day, they will charge you more than half their day rate to make up for lost time and money as they could not schedule a second gig on that day.
Travel Expenses:
You may end up spending as much money on flying out a production crew to the shoot location as on the production itself. Travel expenses also include hotels and meals.Plus, the pandemic has changed video production workflows. We're moving toward a more hybrid future: there will be a limited number of people on set (perhaps hired locally), and the director can manage the shoot remotely from the comfort of a home office. There are production companies with highly efficient remote video production workflows in place. So, look for production companies with remote technologies in place, which will help you slash costs.
Equipment:
A videographer will charge you for equipment costs even if they don't need to rent any. But this is usually part of their daily rate. It helps to protect their expensive equipment and cover the original cost of buying the gear. For bigger productions, a crew may need to rent film gear. Some companies will add this extra cost to the total, while others may incorporate it in their flat-rate fee. Save money by being more flexible about your camera and gear requirements.
Post-Production:
Budget well for post-production because this is where the magic happens. Post-production includes editing, the feedback process, coloring, and grading. Editors tend to specialize in one or the other, so you may need to hire someone for editing and another person for color correction. If you want to elevate your story with design elements, you'll need to budget for a motion graphics designer.
Save with Freelancers:
You can save money by hiring a freelance crew (a couple of shooters and sound technicians) instead of a full-service production company. However, if no one on your team knows how to manage video production, you will get better results by finding a production company that can see the project through to completion.
Want to start saving on high-quality video production? Glimmer can help.
Simpler, Cheaper Payout
A major pain point for many brands is finding an easy way to pay members. Whether you're working with an individual freelancer or an entire crew, you can use our Freelancer Management System to make simple and fast payments. We've also rolled out our revamped Advances experience to give you more flexibility and features when it comes to paying your freelancers. Advances allow you to pay a freelancer while your Glimmer projects are still underway. In the past, advances were restricted to a certain percentage of the project price. Moving forward, you can advance as much or as little as you need as well as distinguish between an advance for expenses versus project payments.
---
By D. Simone Kovacs, Glimmer Editor