How Do You Make Videos in the World's Top Production Locations?
With the increasing demand for captivating content from all corners of the globe and the accessibility to top-notch video production tools, we are sharing tips on making it all possible no matter where you are.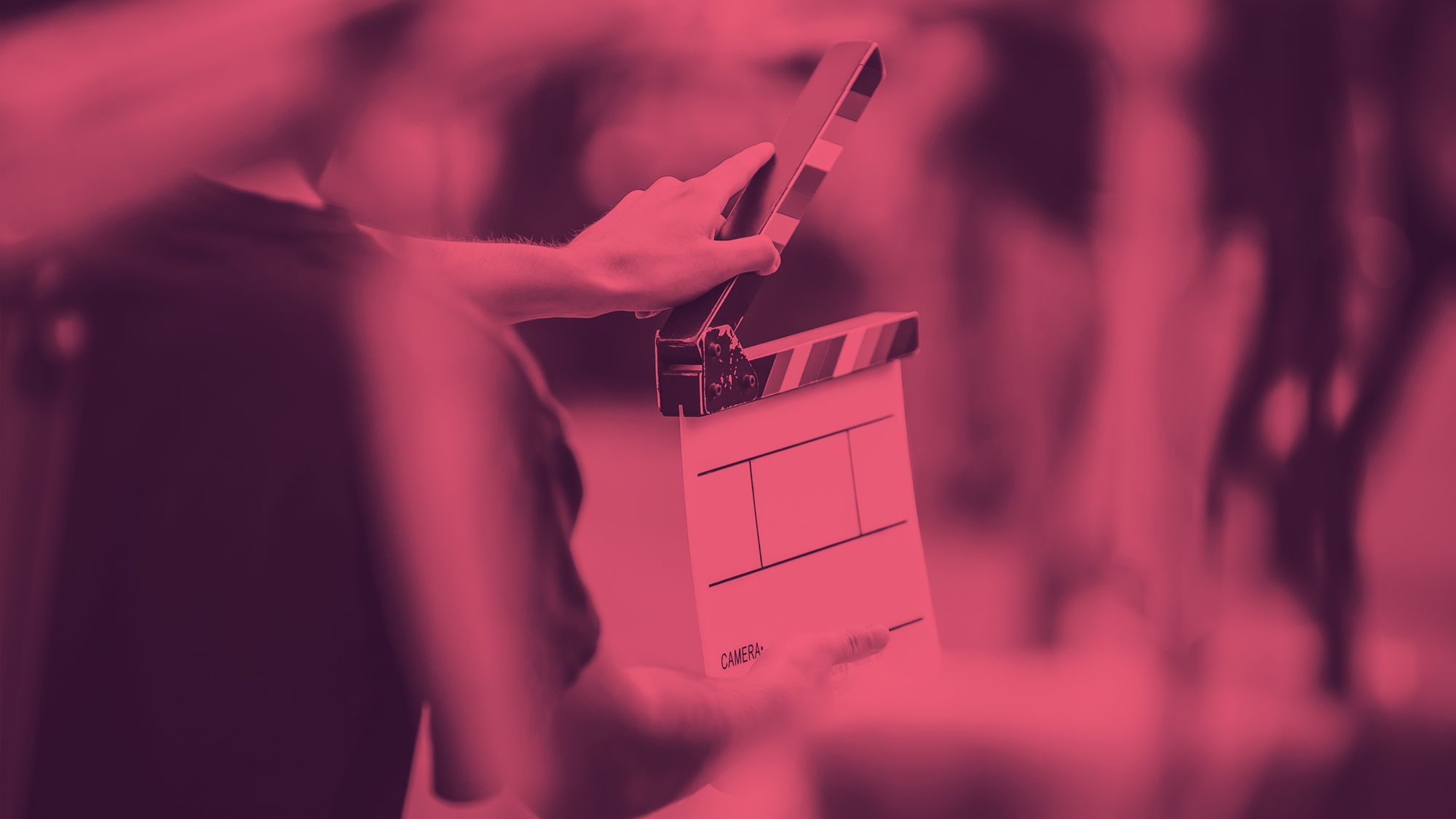 Video production is happening everywhere, all the time, and it's no surprise. Let's dive into why this industry is booming.
First off, the demand for video content is through the roof. Businesses and organizations use video to showcase their products, teach something cool, or share their personal stories on social media. So, naturally, the need for high-quality video production has never been higher.
But it's not just demand driving this trend - technological advancements have also played a role. It is now easy and more affordable than ever for people to make professional-quality videos. You can shoot entire campaigns using an iPhone camera! Virtual reality (VR) and augmented reality (AR) are also opening up new possibilities for video production.
With the increasing demand for captivating content from all corners of the globe and the accessibility to top-notch video production tools, we are sharing tips on making it all possible no matter where you are.
What do you have to consider when filming in public?
Here are some main factors filmmakers need to consider when setting up a video production shoot in public.
Location Permits: Depending on where you're filming, you may need to obtain permits or permission from local authorities to shoot in public areas. Failing to obtain necessary permits can result in legal consequences.
Crowd Control: Shooting in public spaces can attract crowds of curious onlookers, which can disrupt your shoot and cause safety concerns. It's essential to have a plan to manage the situation.
Privacy Concerns: Avoid filming individuals without their consent - you may need to obtain signed release forms from anyone who appears in your footage. You may also need to blur faces in post-production.
Safety Considerations: Conduct a thorough risk assessment and take measures to ensure the safety of everyone involved in the shoot.
What are the top locations for video production in the United States?
The United States is home to the top video production locations globally, according to Glimmer data.
Washington D.C.
New York
Los Angeles, California
San Francisco, California
Chicago, Illinois
What are tips for filming in New York?
If you are going to film in New York City, you're in for a wild ride! New York is a vibrant, fast-paced city offering endless possibilities for creative minds.
You can film across five boroughs, tapping into the city's one-of-a-kind energy. The city's art scene attracts talented actors, directors, and crew members, providing you access to top-tier talent.
New York's modern infrastructure and advanced technology ensure video production teams can access the latest equipment and facilities: Silvercup Studios in Long Island City boasts over 23 sound stages equipped with advanced production technology and spacious backlots for outdoor shoots. Another prominent facility is Steiner Studios in Brooklyn Navy Yard.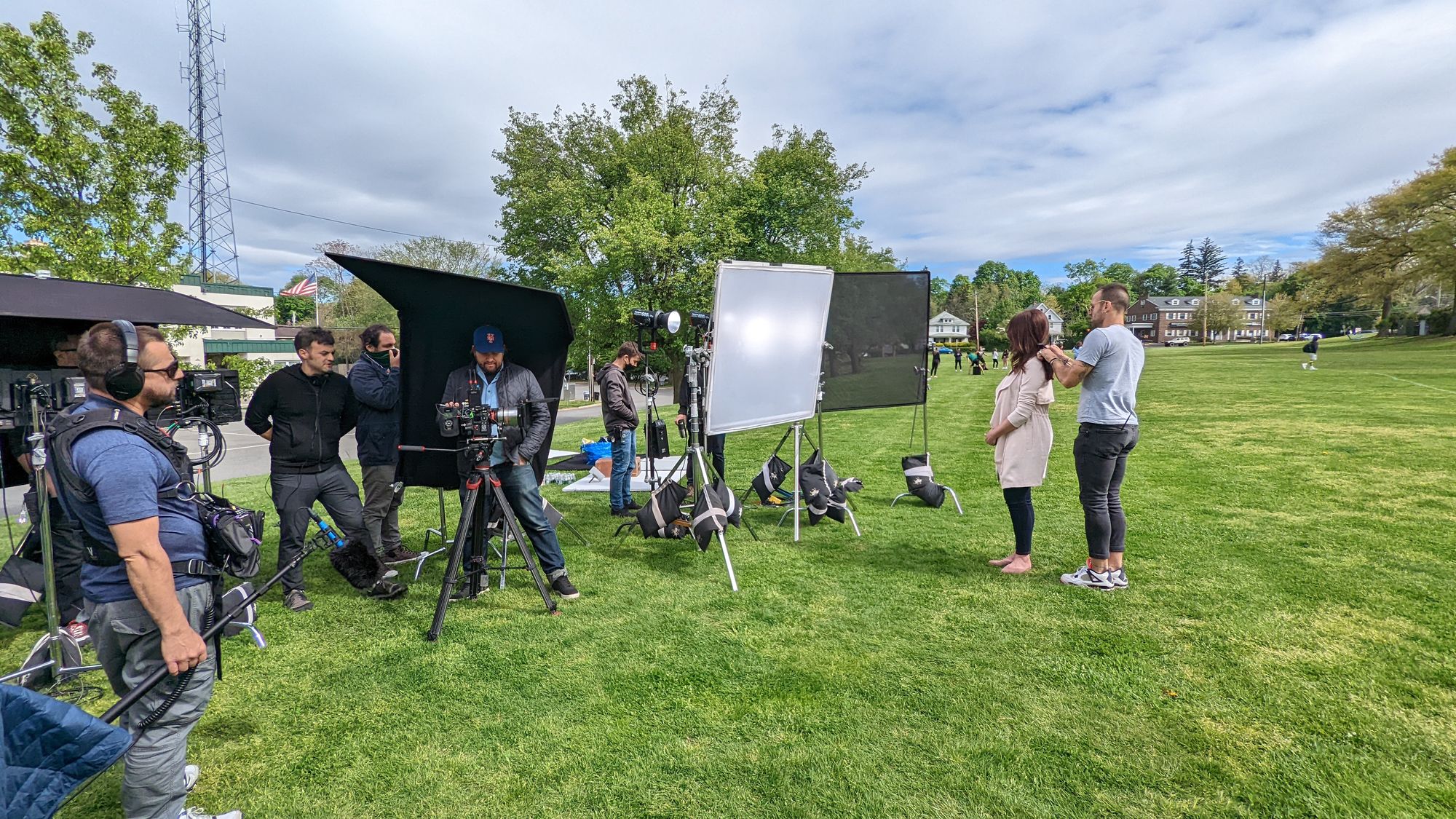 Point Seven Labs has over a decade of experience making TV and digital media content. The team is trilingual, speaking English, Spanish, and Korean, and their interests include food, travel, sports (golf and basketball), cooking, and technology.
We asked Point Seven Labs for their insider scoop on carrying out a successful video shoot in NYC. For one, always scout the location before the shoot. "The client loved the look and feel of a location, and since it was a last-minute shoot, we didn't want to change the location. However, we soon realized that the location presented many challenges we hadn't anticipated, including no room to stage gear, a long load-in and load-out process, and potential noise from nearby construction. Ultimately, we decided to change the location and we are glad we did!" said Eric Rhee from the Point Seven Labs team.
Eric said the experience reinforced the need to scout locations before any shoot. But when things come up, he says to "stay positive and work as a team to find solutions, especially when filming in NYC."
In sum, "with the right preparation, mindset, and teamwork, you can overcome any challenge and make your video shoot in NYC a success!"
What are tips for filming in Los Angeles?
Nic Davis is an Emmy-winning director, cinematographer, and producer for documentaries, major brands, and digital productions. His clients have included BBC, Live Nation, Daimler-Benz, Discovery, Cadillac and artists including Jason Mraz, Pearl Jam, and Dave Matthews.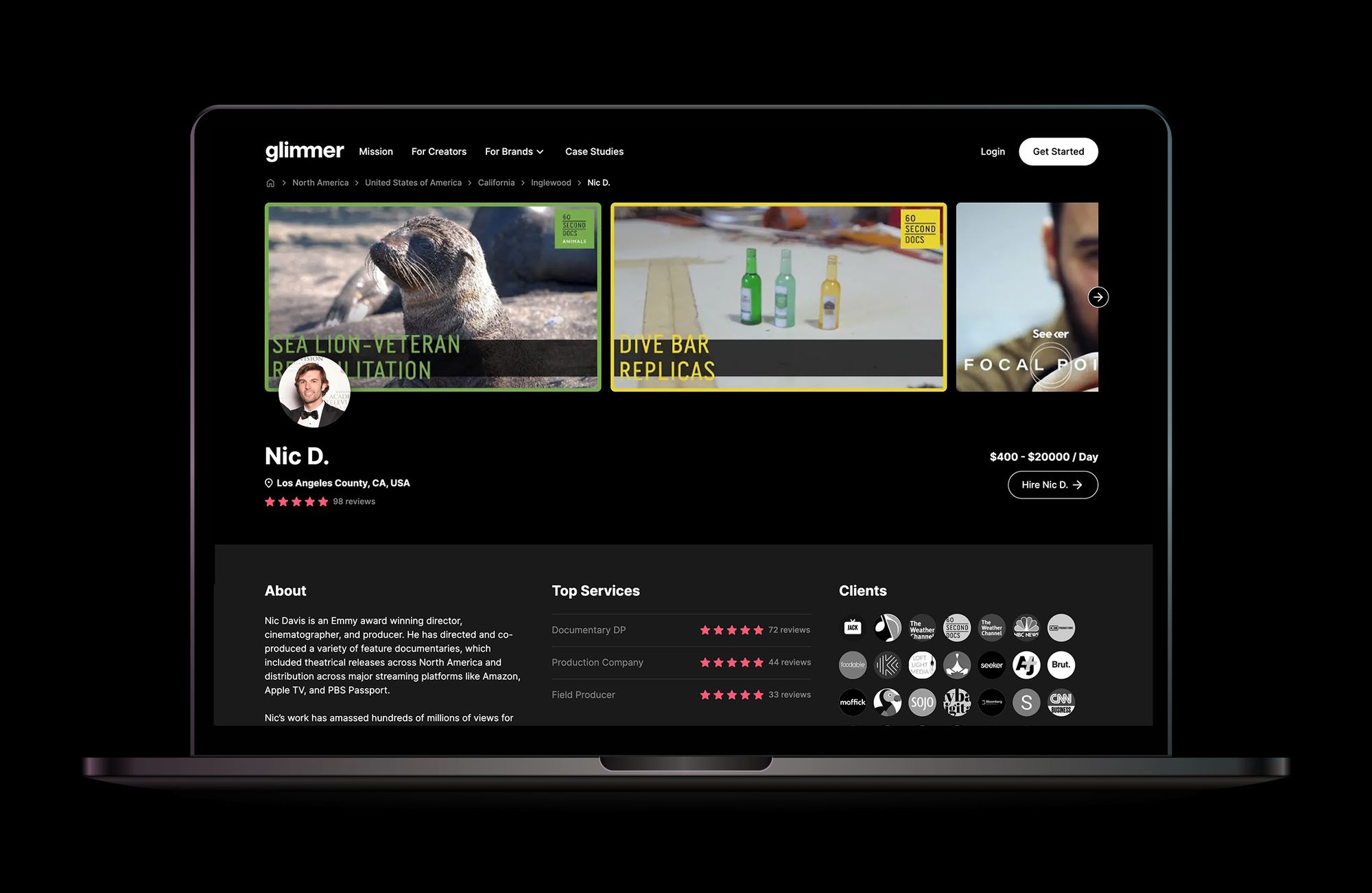 Los Angeles, California is home to Hollywood and some of the biggest studios and production companies. LA "is a lot of cities within a city," Nic said. Each neighborhood is unique, allowing you to choose the best location to complement your story vision.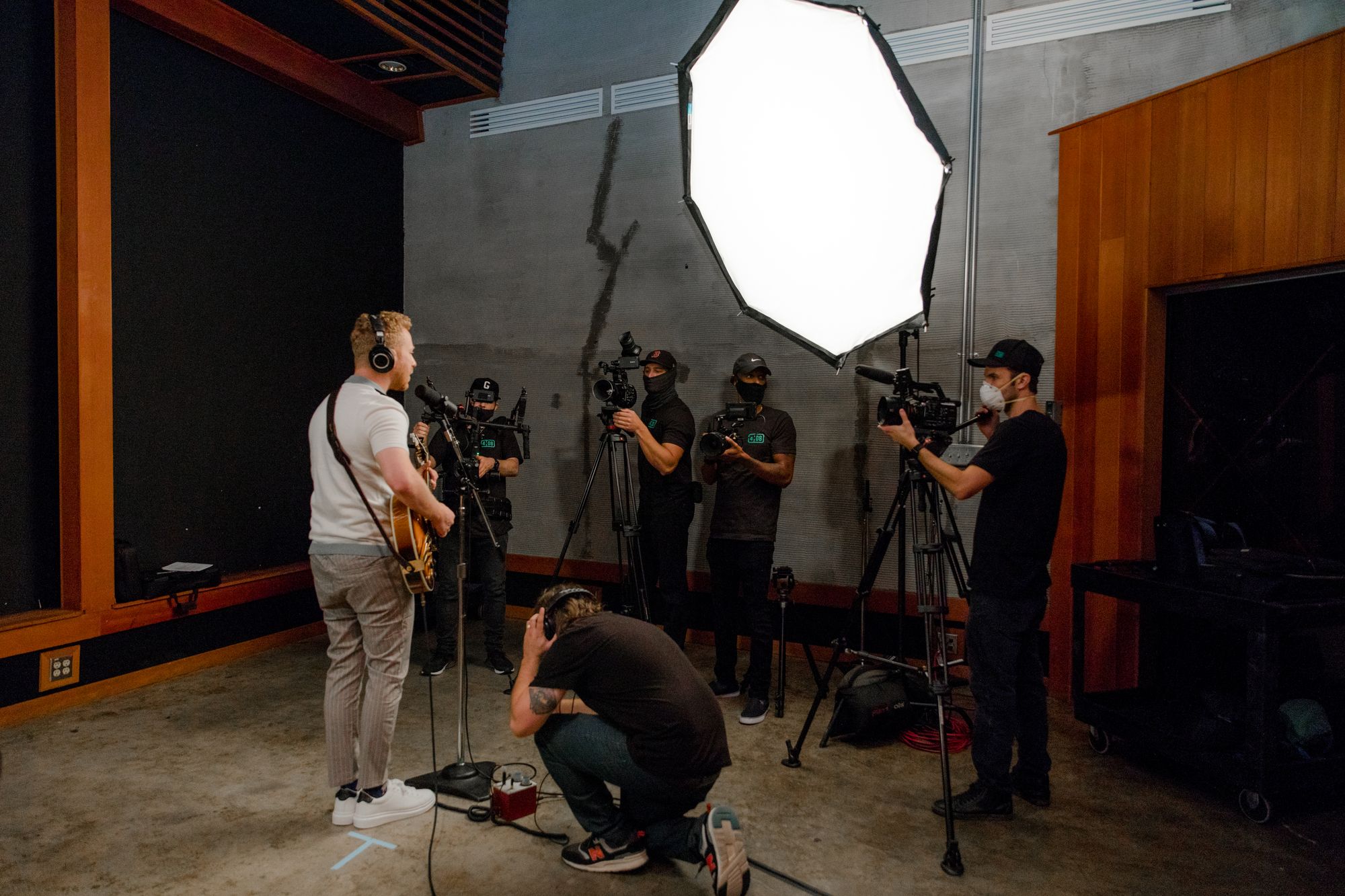 But when planning a shoot, consider the safety of each neighborhood, especially when carrying expensive camera equipment, as car robberies are common.
Another tip: hire a fixer! In one of his first gigs on Glimmer, Nic was filming the Montecito floods in California for The Weather Channel, and having a local on the ground was a lifesaver.
"When you're covering natural disasters, you've got different people involved on so many different levels. And it's difficult for everyone to receive information in real time," he said. "You're talking to a police officer thinking they have a good lay of the land on how to get around. But the people on site often don't have as much information as you're hoping for."
Nic's fixer helped the team navigate the situation and tell the rapidly unfolding story. Local fixers can be the key to a successful shoot.
Hiring a local is also financially beneficial because you do not have to cover their lodging, Nic said.
Another superstar Glimmer freelancer in LA, Alan Sanchez, produces commercial and short-form documentary content for brands, media and tech companies. His team shoots on all types of cameras, from smartphones to large cinema cameras. Alan is fluent in English and Spanish and has crafted stories for clients such as Global Citizen, G/O Media, Seeker, and Propper Daly.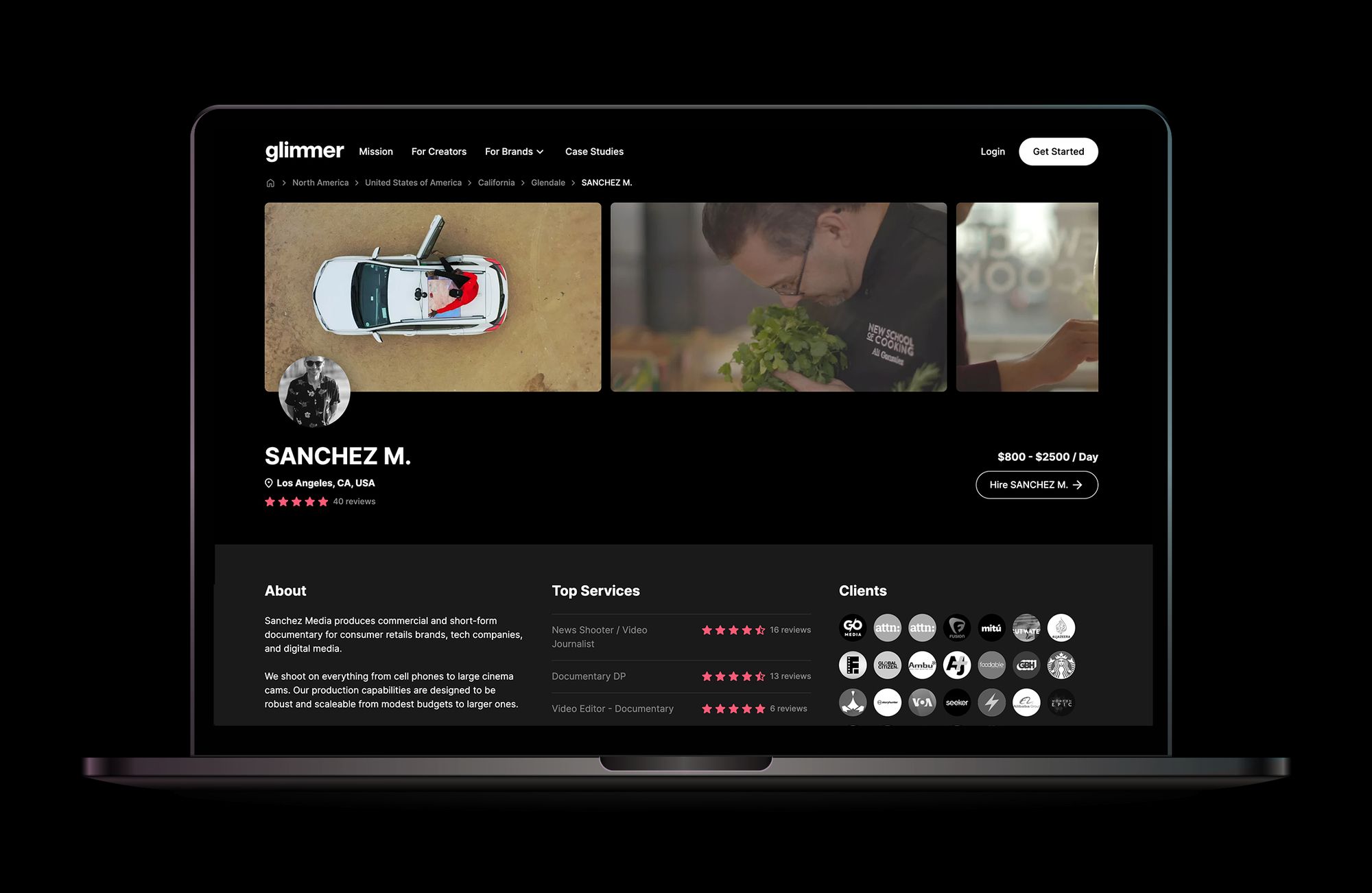 He says shooting in the city is easy if you have a compact crew of between two and five people. But, as Alan shares, you need a permit.
"We did get shut down trying to capture some b-roll in downtown LA. We had a large camera and sticks with us, which caught the attention of security, and they told us we needed a permit to shoot there if the shoot was for commercial purposes."
You can get your permit to film in most places in LA from Film LA.
Alan says when filming, he doesn't take himself too seriously.
"There are always going to be things out of your control. When things fall apart, and you feel overwhelmed and stressed just remember it is a creative project, so get creative and find a solution."
What are tips for filming in San Francisco?
Austin Meyer is a documentary filmmaker and photographer. His clients include HBO, Hulu, Apple TV, National Geographic, The New York Times, and more. Austin says his purpose as a documentarian is to "tell stories that change the way people walk through the world by inspiring empathy, curiosity, and wonder."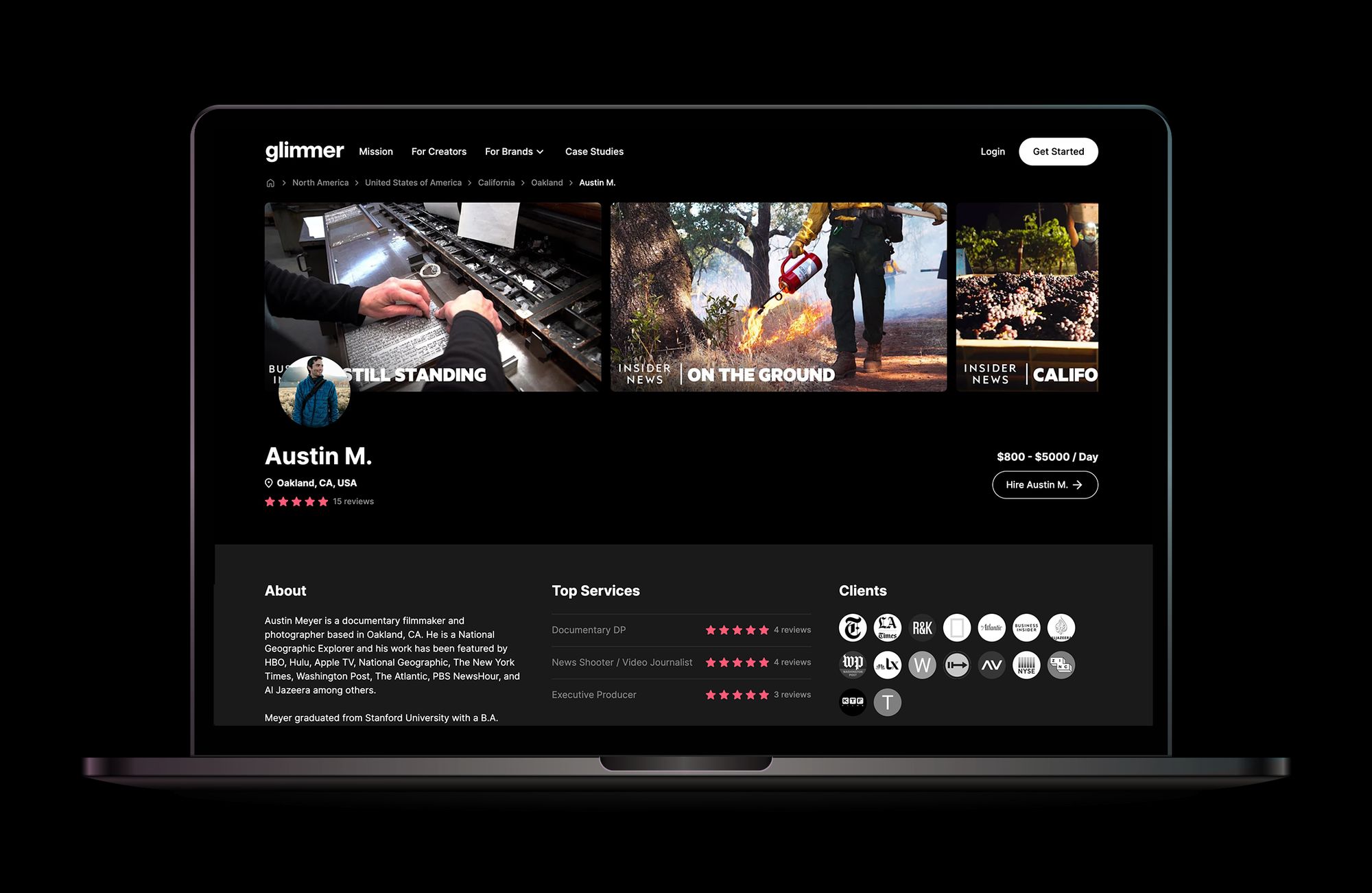 San Francisco is an ideal city for video production because of its vibrancy and diversity. If you are heading to San Francisco to film, Austin says to "embrace the city's unique energy and culture."
When filming in San Francisco, keep the following in mind:
Location permits: You need to apply to the San Francisco Film Commission, and the application process can take a few weeks, so make sure you plan accordingly. "My tips for securing permits are to start the process early, be thorough and organized in your application, and communicate with the film commission throughout the process," Austin said.
Check the weather: "Wind, fog, and heat waves, San Francisco gets it all. The weather can change quickly, so be prepared," Austin said.
Equipment safety: "Car break-ins are commonplace in the Bay Area," Austin warns. "I make sure my kit is scaled down so the crew can always monitor it."
While San Francisco is a unique filming location, Austin says to "be aware of the regulations governing filming in public spaces, and consider how filming could impact the local community."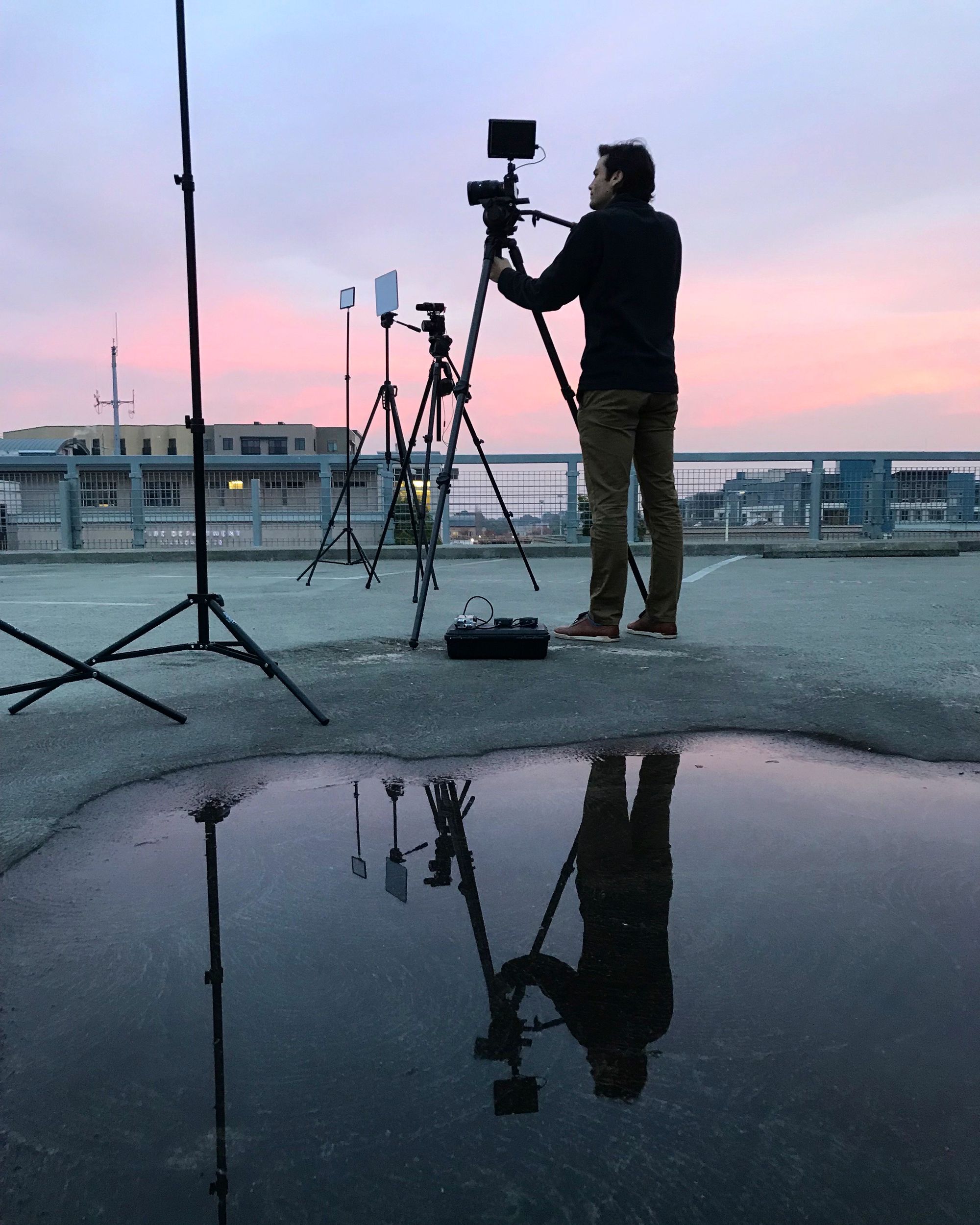 What are tips for filming in Chicago?
Chicago, Illinois is a film-friendly city with a long history of hosting film and television productions. You will find many talented actors, crew members, and production companies available to work with. The Former Commissioner of the Department of Cultural Affairs and Special Events, Mark Kelly, says he wants to project Chicago's image to the world: "We see L.A. and New York through the films that come from there, and we in Chicago should emerge as one of the top film-producing locations in this country."
Devin Leiberman is a DP and video editor. He has told stories for The Weather Channel, AJ+, MyHeritage, Scorpion, and more.
Devin says Chicago is a special place to film. "There is culture in every nook and cranny, and the aesthetics are iconic. A true Chicago native can instantly recognize a shot in a TV show or a video online taken on the city streets. At night the city is awash in a monochromatic sodium orange light that overtakes all other colors and defines the look of the image."
Chicagoans are used to seeing cameras around, especially for news and events. The city offers incentives to attract filmmakers, including a film office to help with permits and logistics and a tax credit program. "Small portable productions that do not impede the public (news crews, documentaries, b-roll, etc) often do not require permits," according to the Chicago Film Office. But make sure to do your research, as there are locations and instances where permits will be required. For everything permit-related, head to the Chicago Film Office website.
Devin says he loves doing what he does in a city like Chicago.
"The Chicago Cubs were on their way to winning the World Series, and I was working as a production assistant on a shoot bigger than I had ever worked on before. I was in one of 10 camera crews spread around the city, capturing reactions to history in the making on streets, in bars, and homes. The project reminded me how important and impactful documenting the world through video can be, and it reinforced my confidence to continue investing in myself early on in my career."
What are tips for filming in Washington, D.C.?
Washington, D.C. is the best video production location, and it's no wonder why. The nation's capital offers a unique backdrop for filming with iconic landmarks such as The National Mall and Lincoln Memorial. D.C. is also a prominent news hub, attracting journalists and news organizations. Its proximity to government institutions, political events, and international embassies gives film crews unparalleled access to breaking news, policy discussions, and global affairs.
You can search for the best creative talent in DC here.
What are the top locations for production internationally?
Outside of U.S. cities, London, Mumbai, Istanbul, and Sao Paulo are the most sought-after locations for TV and film production.
Do you want to seamlessly pull off a video production shoot in a foreign country? Then, strategic planning is the key to your success! Let's get to it.
Research the Location: What are the local customs and laws? What is the weather during the time of year you want to film? Are there any security concerns? All this information will help you to make informed decisions about shoot logistics.
Hire A Fixer: Fixers can scout shoot locations beforehand, arrange interviews on the ground, and share logistical information such as finding accommodation, hiring equipment, and securing permits.
Prepare for Language Barriers: What is the language spoken? How widespread is the use of the language? In Kenya, for example, Swahili is the native language, but English is widely spoken, especially in media, government, and schools. If needed, prepare for language hurdles by hiring a translator or interpreter.
Budgeting: International shoots can be expensive: Factor in travel costs, accommodation, equipment rental, permits, and crew fees.
Be Flexible: International shoots can be unpredictable - weather conditions, local customs, and unforeseen circumstances can all impact the shoot. Have a contingency plan in place!
What are tips for filming in London?
From Westminster Abbey to the modern Shard and London Eye, London has an impressive range of buildings and landmarks, providing an instantly recognizable backdrop for video production.
London also has many international film studios and production companies, such as the world-renowned Pinewood Studios. The city also has excellent infrastructure, including modern transportation systems, international airports, and high-speed internet connectivity, which makes it easy for video production companies to transport equipment and personnel and communicate with clients globally.
The UK government also offers tax incentives to encourage film and television production, including a 25% tax credit on qualifying UK production expenditure.
Where can you film in London? Anton Nelson, who owns a production company based in West London specializing in 8K and 6K content creation for social media, says you can get away with shooting b-roll in public if you are a single operator with a discreet camera kit. "As long as you do not put tripod legs down or unnecessarily block roads and public walkways," he said.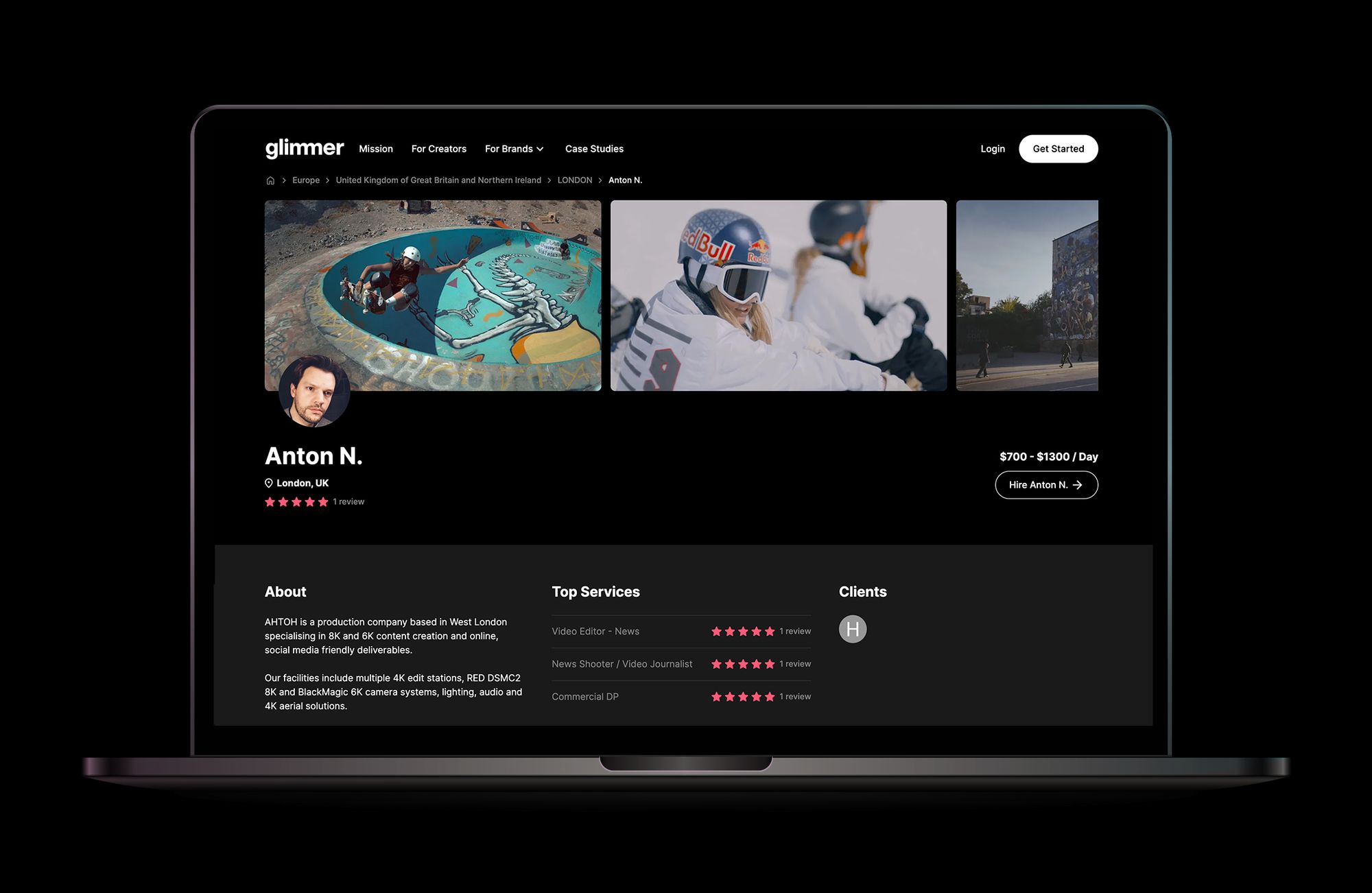 But you still need permission in advance to film with a tripod in Royal Parks, Trafalgar Square, Parliament Square, South Bank, and all tube stations.
London has many boroughs - each has different rules on film production. "It can take up to three weeks to get a permit - particularly if you need to install a temporary structure, block off a road or do anything more than single operator image capture," said Geraint Hill, a non-fiction film director who has filmed and edited multiple stories for the BBC, UNICEF, CNN, Buzzfeed, and many others.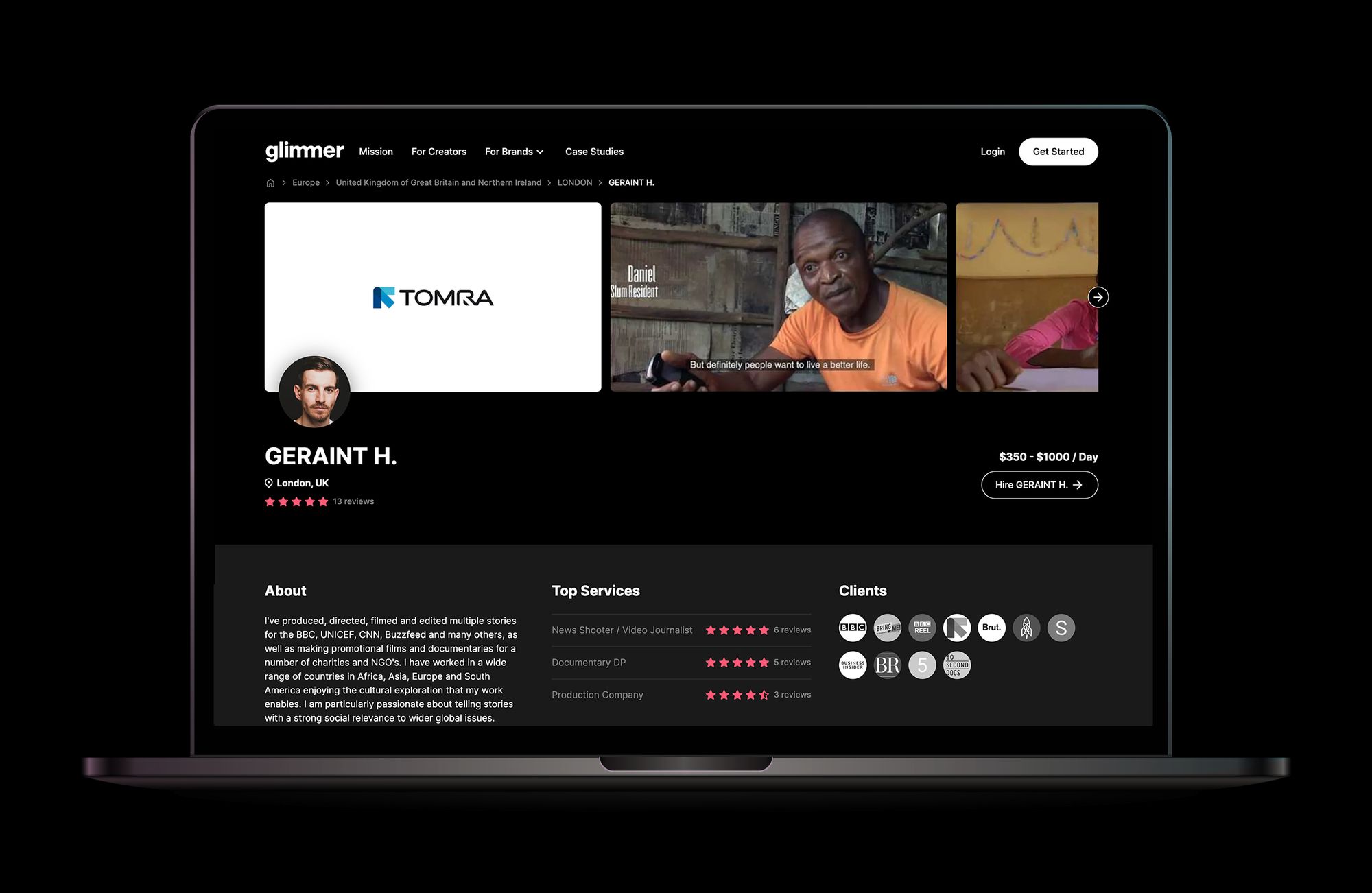 If you want to capture drone footage, London can be a challenge, especially in the town centers, as it is highly restricted. An alternative is to ask a private landowner if you can film from their building and negotiate the cost.
The secret to success on any shoot is thorough planning. Geraint shared this anecdote from a film shoot on the London Underground.
"The production team had not informed the creative team that we could only have seven people filming on the London Underground. This created several issues, particularly as the client wanted to be present. Instead of letting it impact the shoot, we adapted the crew, took the most experienced and useful people down, and got the job done, leaving the producer to appease the client above ground! We could have averted this through better and more efficient communication before the shoot day. Planning and prep are vital to avoid issues, but being flexible and adaptable are skills you need too," he said.
Here are more tips to keep in mind for shooting in London:
Be prepared for the weather: London is infamous for its overcast, rainy weather. "It can rain at a moment's notice, so keeping extra umbrellas or waterproof materials is essential," says cinematographer Andrew Thomas. "Even shower caps from hotel rooms for your monitor is an option."
Find an easy way around the city: Getting around London with all your expensive gear can be a hassle. If you don't own a car, Andrew recommends looking into a free yearly subscription to Zipcar. (Pro tip: Make sure your license is up to date!)
Scout the location: You can save time and money during the shoot if you scout the area beforehand. If you are not in the city or country, you can hire a fixer or location scout to do the job for you. Through due diligence, Andrew learned that the park he wanted to film in keeps its gates locked. "We got the key from the groundskeeper, which let us move freely on the shoot day."
Keep your crew small: Find people you can rely on, especially in unexpected shooting circumstances. Your core crew should be highly familiar with your style and expectations.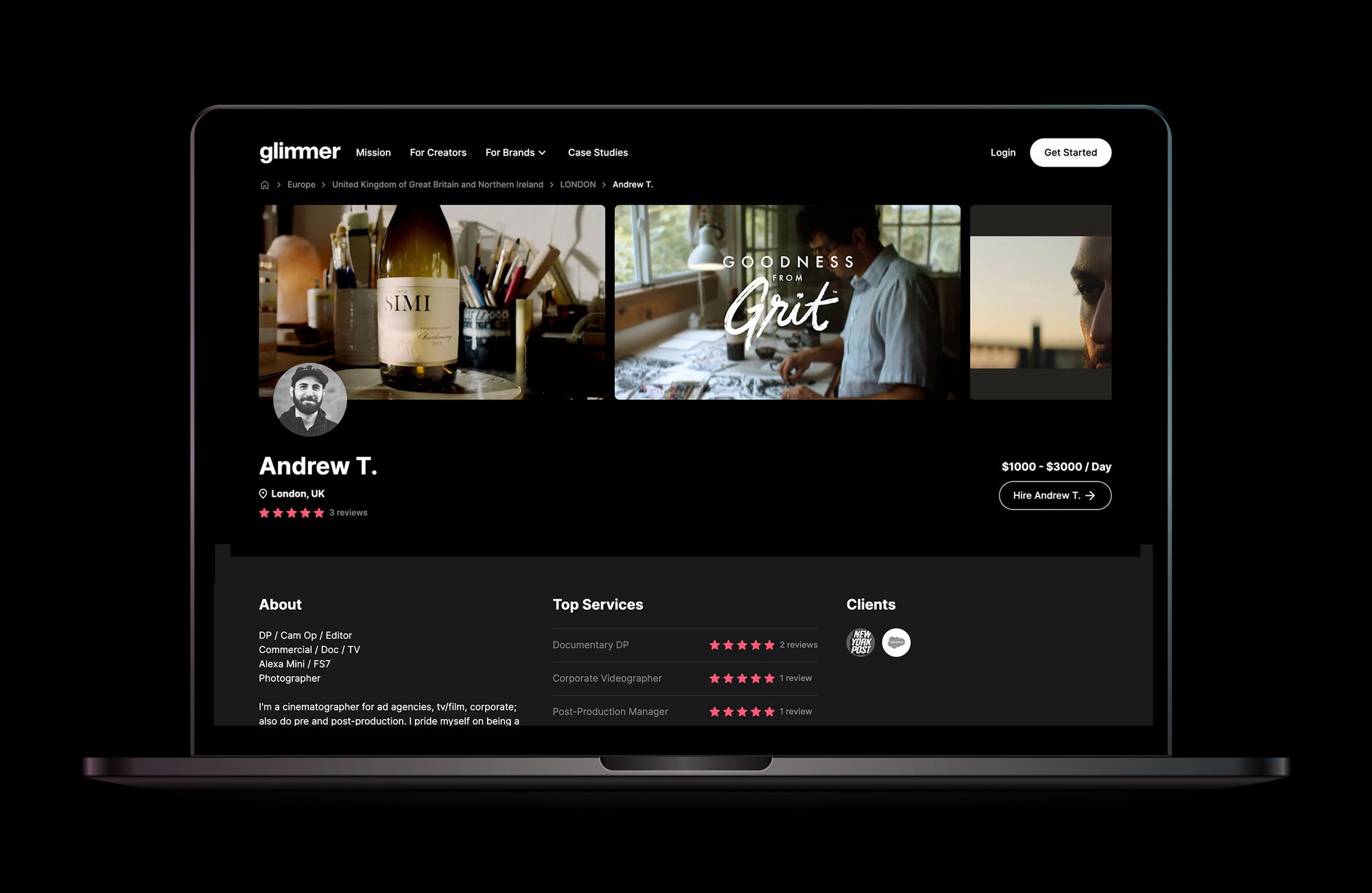 What are tips for filming in Mumbai?
Mumbai is one of the most populous and diverse cities in India. The city is a melting pot of different cultures, languages, and religions. Each neighborhood has its distinct personality and charm. The vibrant street life, bustling markets, and colorful festivals provide a lively and energetic backdrop for video production.
Mumbai is synonymous with Bollywood, one of the largest film industries in the world, making 1,000 movies a year. The city's film industry is known for its colorful and extravagant musical sequences, which feature vibrant costumes, lively choreography, and elaborate sets. Videos filmed in Mumbai can incorporate the city's Bollywood influences to create a unique and engaging final product.
Naturally, you'll find a talented pool of actors, directors, technicians, and other experienced video production professionals in Mumbai. The metropolis also has several film studios, post-production facilities, and equipment rental companies that cater to the needs of the video production industry - and it's cost-effective!
Hardik Contractor is one of Glimmer's superstar freelancers - he has completed more than 60 projects on the platform for clients such as National Geographic, Gucci, LinkedIn, and Booking.com.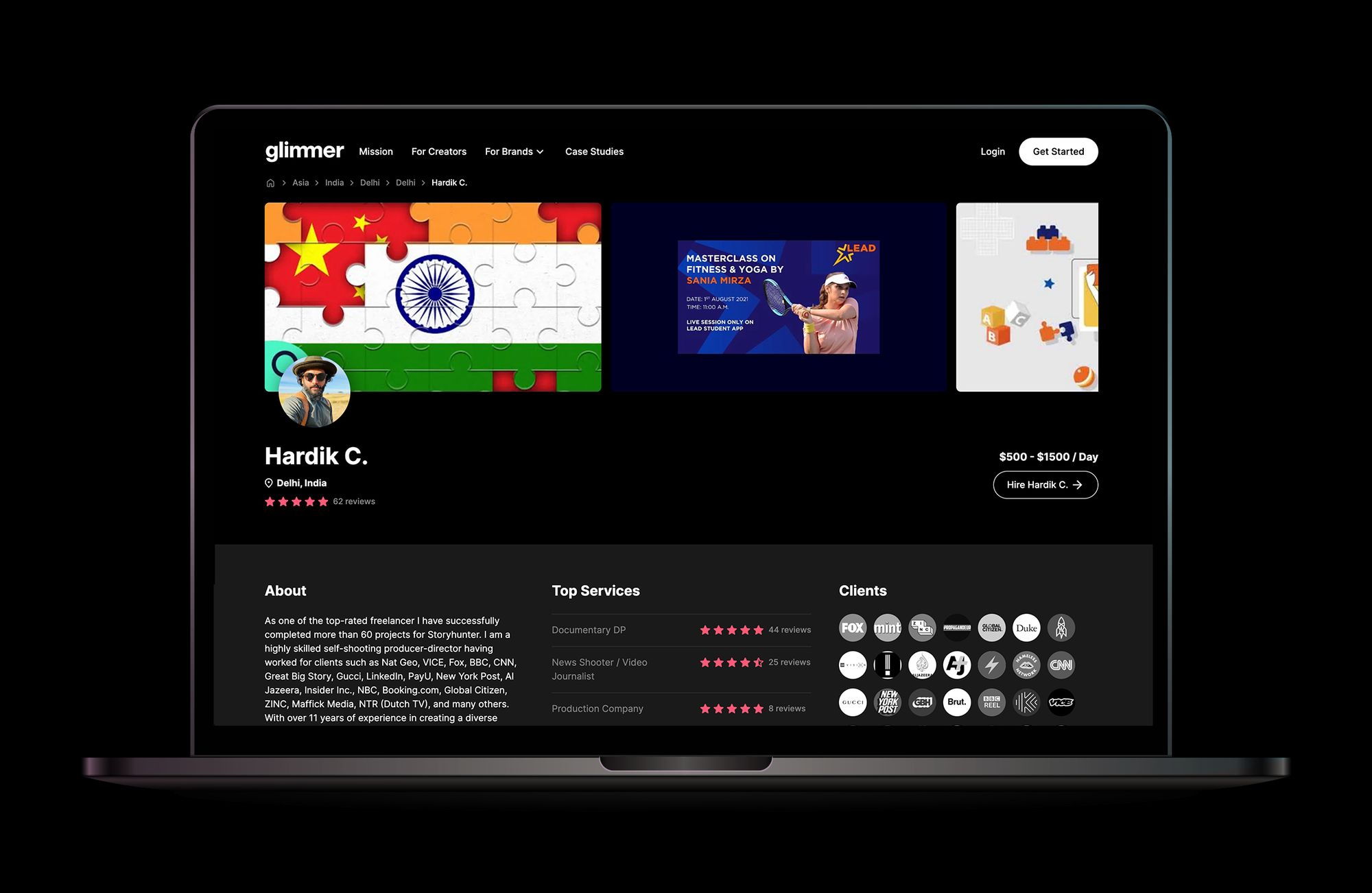 To prepare for a shoot, Hardik creates a shot list, scouts the location, selects the equipment based on client needs, figures out logistics, and creates a filming schedule. When shooting in Mumbai, be mindful of the "local customs, traditions, and sensitivities, and respect them in your videos," Hardik said.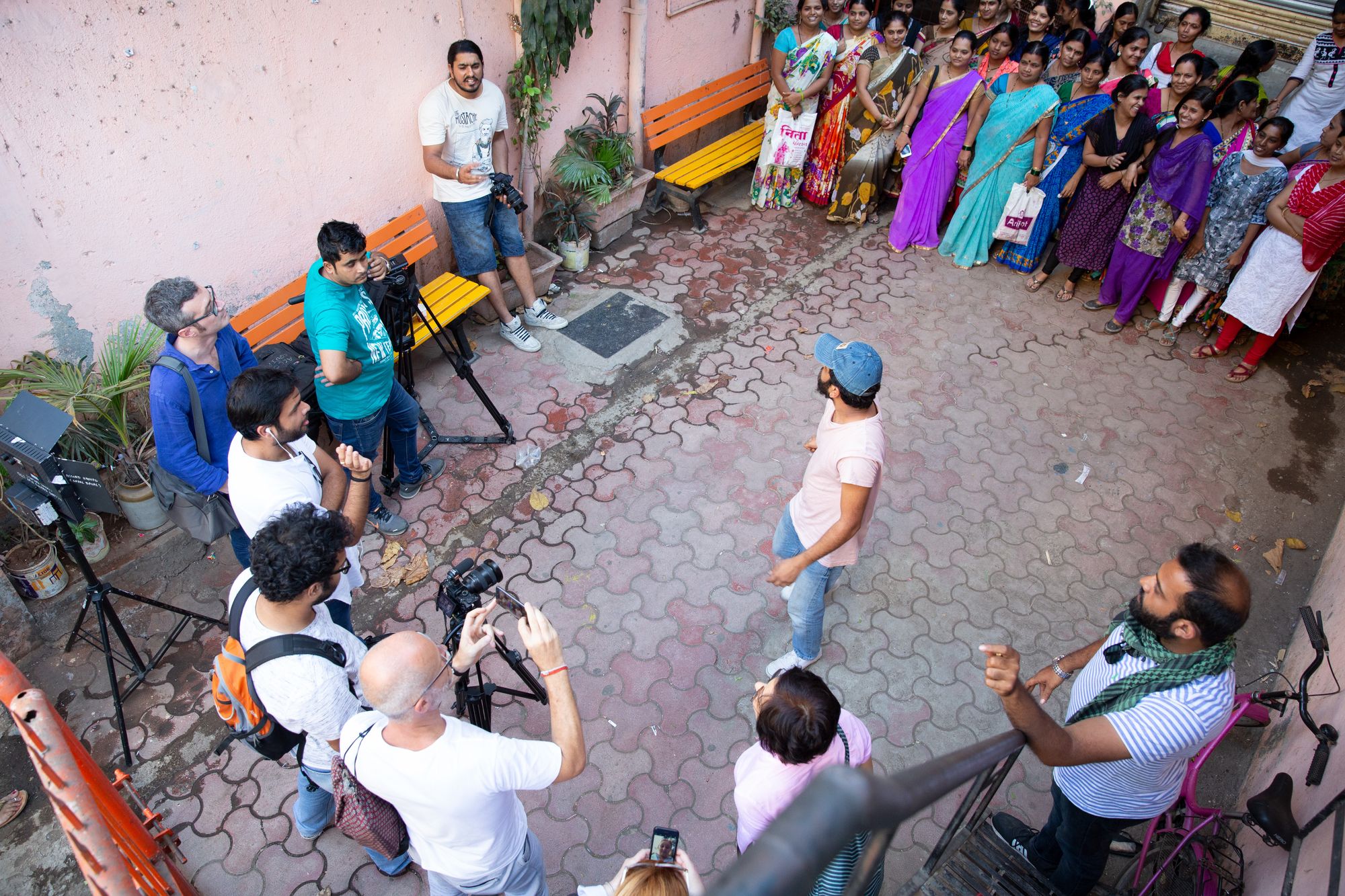 Unsurprisingly, there are massive traffic jams in Mumbai.
"We were shooting in Bandra, Mumbai during the golden hours along with the clients and our equipment failed. Our backup team was hardly six miles away but they took two hours to reach the location," Hardik shared. "We missed out on the spot and had to reschedule the filming again. Mumbai has the world's worst traffic flow and it's crazy during the peak hours. The lesson here is that it's crucial to always have backup equipment on hand, whether it's an extra camera, microphone, or other gear."
You also need to account for the hot and humid weather. There are also heavy rains.
Nishant Sabnis says to be prepared for the unexpected: "Monsoons are heavy and could come pouring down even if the forecast is clear for that day. Some of our longer live-streaming shoots in the summer require additional fans to cool the equipment.
When you are arranging studio and equipment rentals during the December to February peak season can be difficult. So, consider this during pre-production.
What about securing permits? Suraj Katra, a freelancer interested in "human-centered narratives," says permits often require multiple trips to offices. "If you are unknown then they will always like to meet you and question your intent, where you like to publish it, will they (the authority) be mentioned, and what shots you need," he said.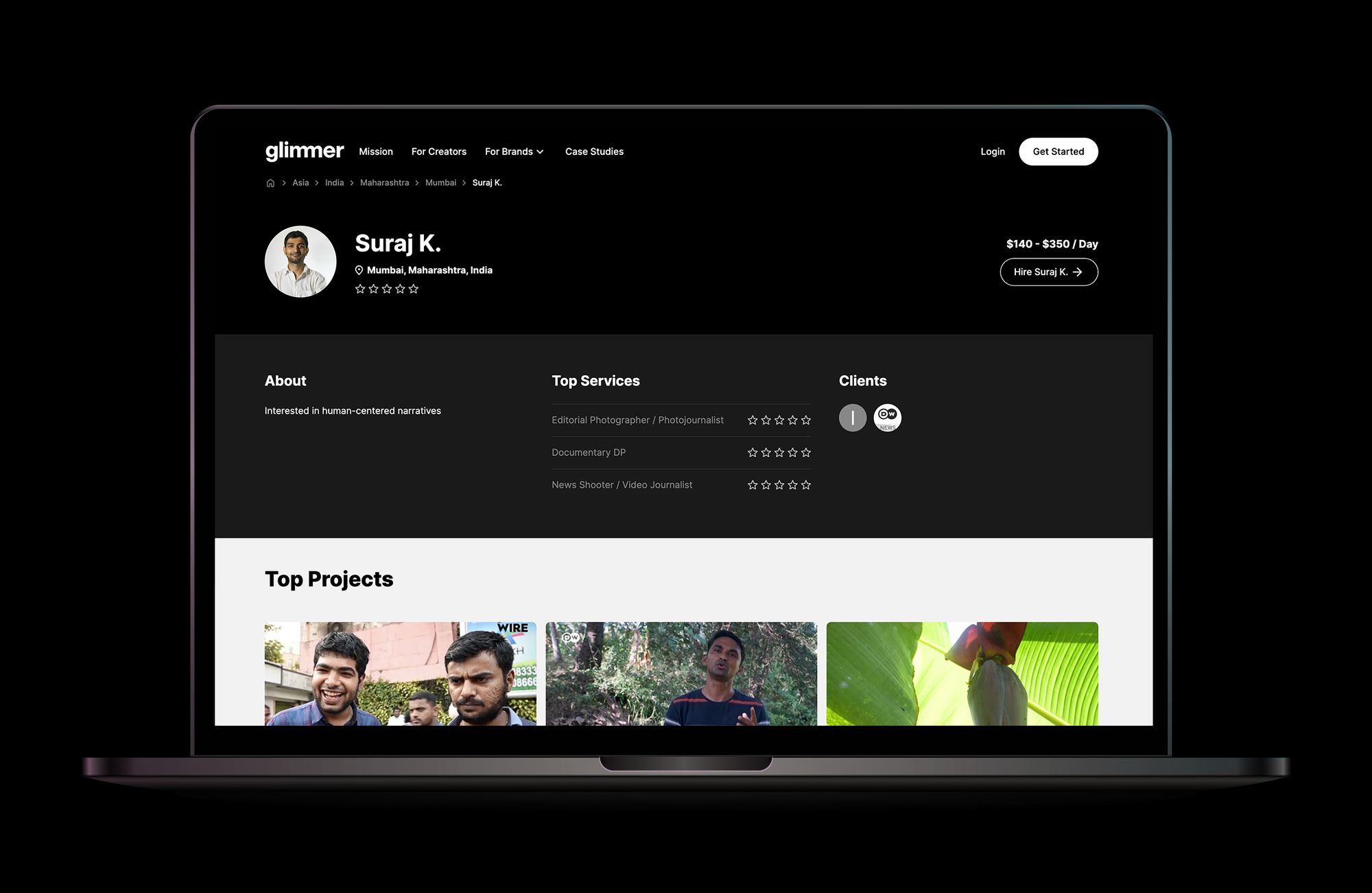 In India, it helps to have the right connections with the police, Nishant said. "They can be temperamental about these things and often look for an 'extra' payment to give you permissions for things like a drone shoot. Hence, having access to higher levels of authority helps. Usually, most smaller producers would take their chances and take the shots they need to without getting into the complications or sorting out permissions."
Nishant says when it comes to shooting, sometimes you simply have to go for it.
"Our most memorable and successful video was Mumbai During Covid Lockdown, a one-of-a-kind video with footage that no one else has or ever will - Mumbai with empty streets. It was the first days of the lockdown in March 2020 and as soon as we had the idea, we moved quickly to get permissions from different police stations with the network of reporters at Mumbai Live."
"It was filmed over an entire day. Our team had problems getting out of the residential complexes because the lockdown was so strict. The cops stopped us even though we had permission. Many other video creators and news channels tried to replicate the shoot again but were not given permission. If we were even a week late, we would have missed our chance. The learning from this was that it's sometimes better to JUST DO IT, without worrying about the final output or spending excessive time in pre-production."
What are tips for filming in Istanbul?
Istanbul has unmatched cultural diversity: the city unites the best of two worlds with its blend of Eastern and Western cultures. The landmarks and landscapes, such as the Bosphorus are awe-inspiring.
Turkish producer and fixer Zeynep Ardag says Istanbul is "a beautiful city where ancient history has melted in the same pot with a modern and vibrant lifestyle. It is heaven for filmmakers."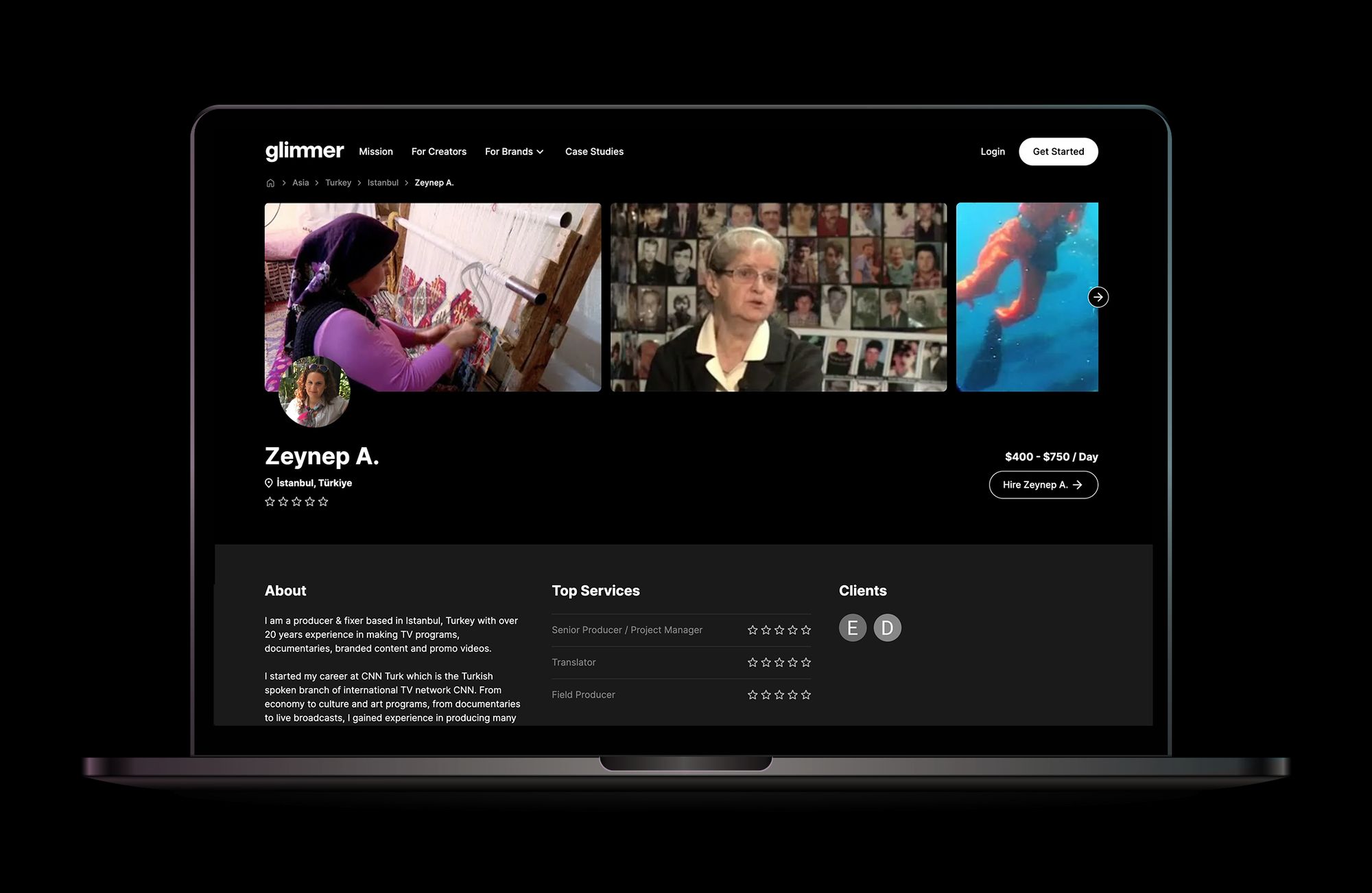 But she says not to be tied to filming with the famous landmarks as a backdrop.
"Don't limit yourself to the Hagia Sophia, Blue Mosque, and oriental cliché like filming in a hammam (Turkish bath) or filming carpet vendors in Grand Bazaar." Instead, she says, to go off the beaten path. You can hire a local fixer to help you discover Istanbul's rich texture.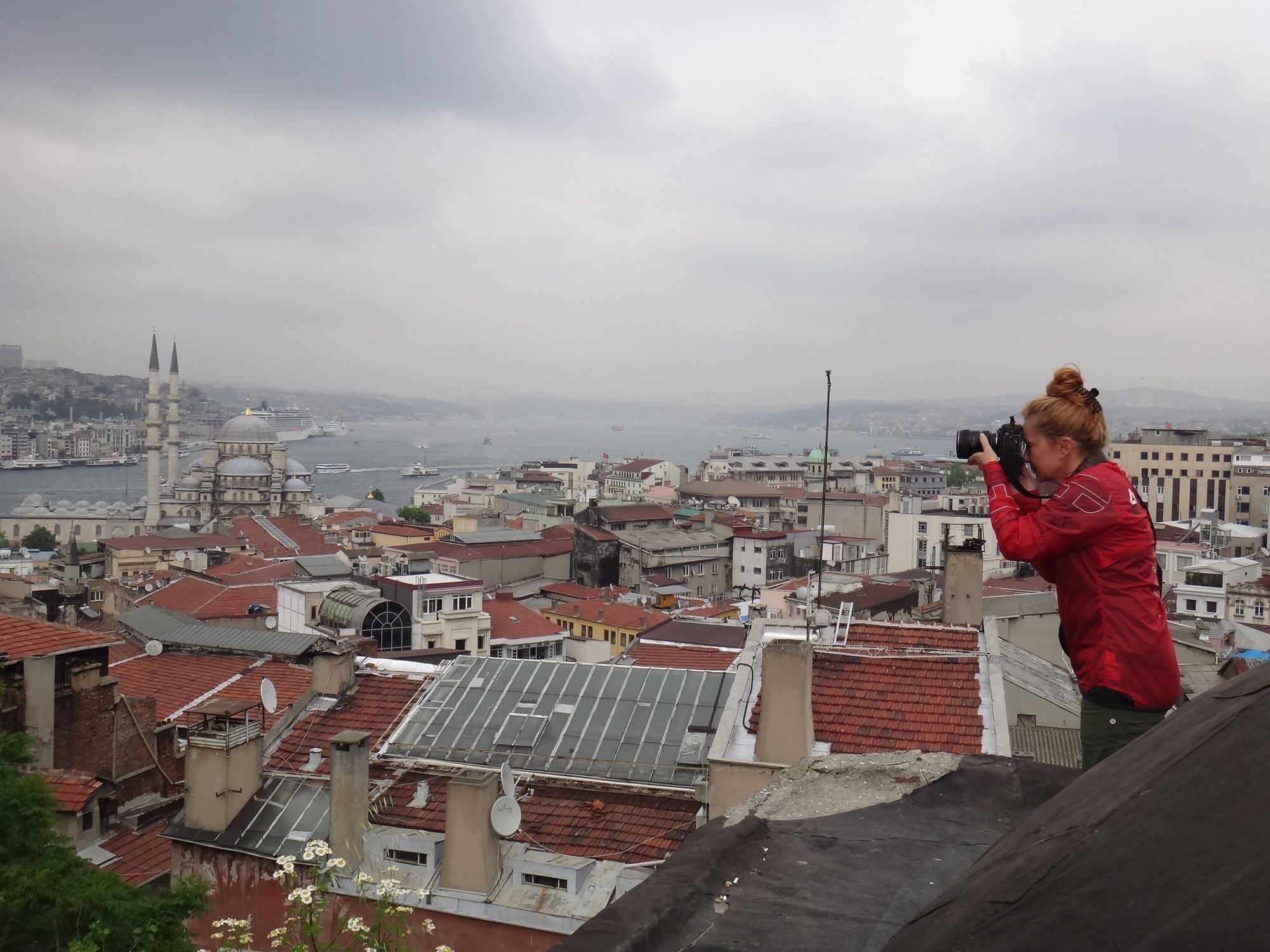 Zeynep says you need permits for filming in Istanbul because it is common for authorities to question crews. "This is more likely to happen while filming in touristy areas like Sultanahmet, Eminönü, Galata, Karaköy, and Taksim. But police can ask for filming permits while filming anywhere in the city."
Here are things to consider about permits:
Obtain a filming permit from the Turkish Ministry of Culture and Tourism. When applying, be prepared to provide details about your project, such as shooting dates, crew size, equipment, and the purpose of the filming. You may also need to submit a synopsis, shooting script, production schedule, and proof of insurance.
You may also need a permit from the governor of the cities you want to film in.
Permits vary according to the location you want to film in. "If you want to film in main squares, on main roads, and subways in Istanbul, you need to get a permit from the Istanbul Metropolitan Municipality and pay a certain fee for each location. If you want to film on side streets, you also need to get a permit from the local district municipalities in addition to the permits above and pay for them. For filming in the mosques, a permit from the Mufti (Provincial Religious Affairs), for filming in private locations like The Grand Bazaar and Spice Market, a permit from their management board is necessary," Zeynep explained.
Overall, contact the Turkish Ministry of Culture and Tourism or the Istanbul Film Commission to get specific instructions and requirements for filming.
Zeynep says hiring a fixer in Istanbul can help ensure a seamless production process.
"Having a local fixer will be handy while filming in public as most Turkish people don't speak English. The fixer can help the foreign crew to communicate with the police officers and also deal with the curious people who try to approach the cameramen and want to learn what they are filming," she said.
When filming in public, be mindful of cultural sensitivities.
"It is a Muslim country, some women are very conservative and may not want to be filmed. So, for instance, if you are doing street interviews, never point your microphone at a woman (especially if they are wearing a hijab) without getting their approval first. Or if you are filming GV's in the streets or a mosque, try not to film close face shots of people without getting their approval," Zeynep said.
As in any major metropolis, you need to consider traffic. " If you try to squeeze in many different locations in one day, then there is no doubt that there will be delays in your filming schedule due to traffic jams. So, I never make filming schedules where you need to rush from one location to another," Zeynep said.
What are tips for filming in Sao Paulo?
The cultural diversity of Brazil's largest city makes videos filmed there stand out. The city has a vibrant street art scene, including famous murals and graffiti. Sao Paulo is also known for its music, everything from samba and bossa nova to rock and electronic sounds. Its culinary traditions are diverse and world-renowned, offering a range of flavors and experiences you can incorporate into your video production. Sao Paulo has modern architecture, historic colonial buildings, and beautiful parks - plenty of locations to meet your specific content needs!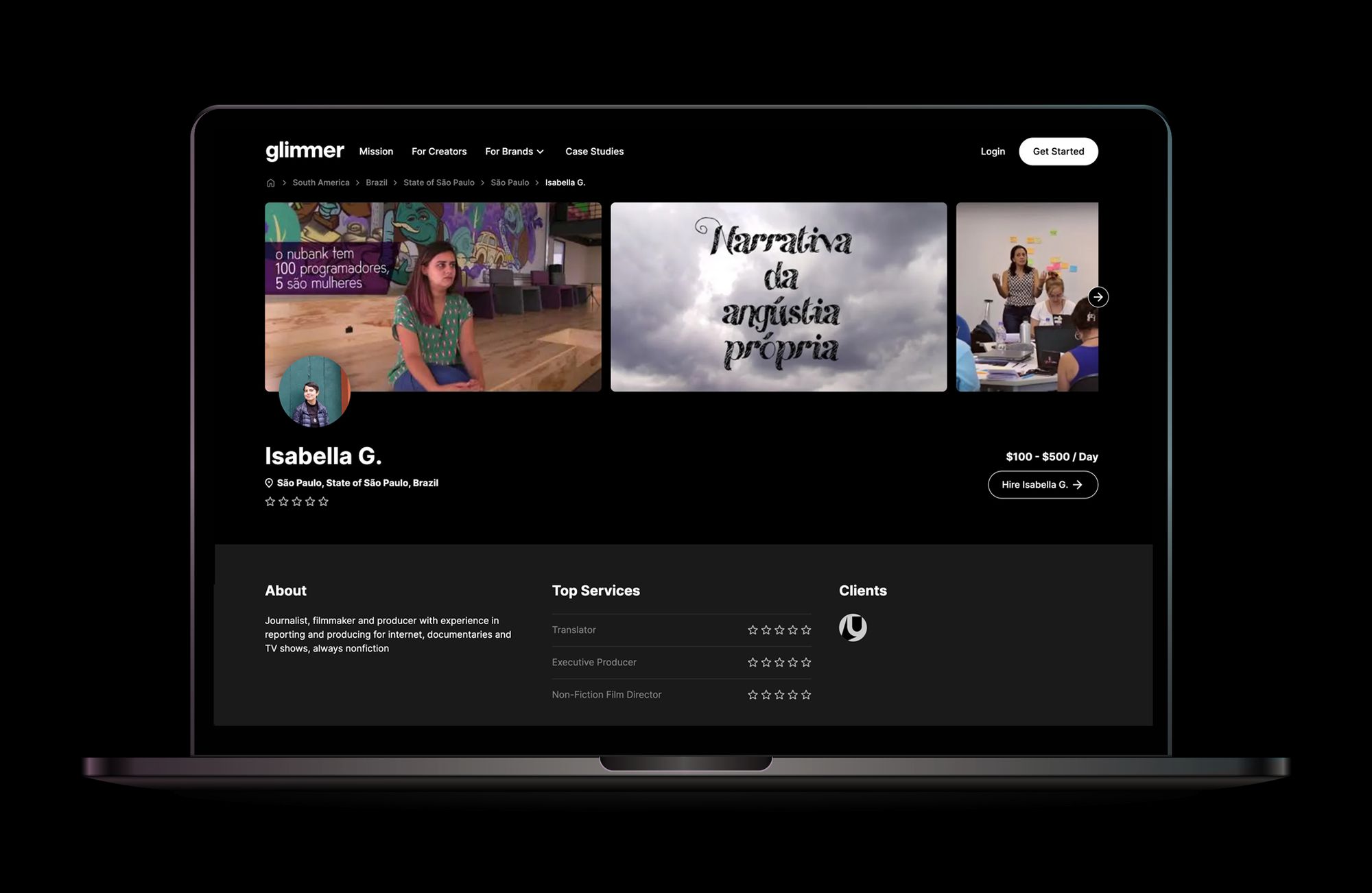 The city has a well-established film industry where you can find many top-tier production houses such as O2 Filmes, rental equipment companies, and post-production studios. Isabella Galante, a filmmaker, and producer telling non-fiction stories, says you don't need a permit if you are filming in any public open space for journalistic purposes. "If you need to shoot inside a supermarket, a hospital, a bank or any other private place, you should write to the communications department asking for permission and setting up a time. Producers of fictional and commercial productions need to contact Ancine and your desired location to get the necessary permits, and there is a high cost involved," she said.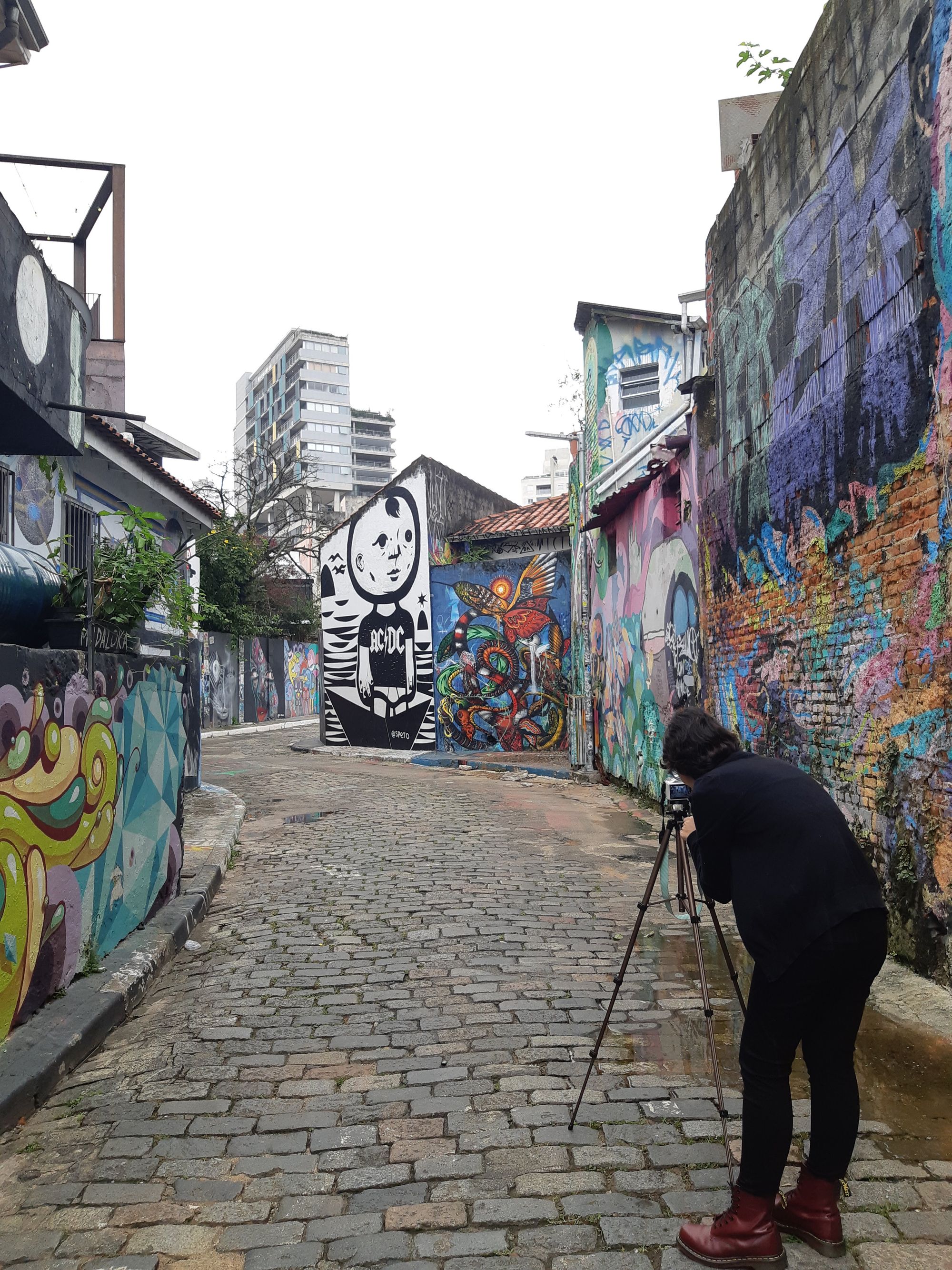 Once again, you must scout a location beforehand. Isabella shared this anecdote:
"I chose to shoot an interview in a beautiful park in São Paulo, at Parque do Povo. The footage looked great, but every three minutes, a different plane passed by over our heads. I thought the result would not be too bad and kept going. When editing the material, the noise was loud, and it was impossible to fix it. So I had to reschedule the interview and re-record, this time inside a living room, far from any airplane route. It is always important to go to the desired place before a shoot and to check all the conditions, and if it's not great, go somewhere else.
In conclusion
Filmmakers planning a video production in foreign cities must be well-prepared, adaptable, and respectful of local customs and regulations. Thorough research and pre-production planning are crucial, especially as you need to navigate obtaining permits. Teaming up with fixers on the ground can help production teams get around language barriers, set up interviews, and find locations for the shoot.
When you are in a foreign city, embrace the diversity of the location and try not to fall into the cliches of a place. By combining careful preparation, flexibility, and an appreciation for cultural differences, filmmakers can unlock the creative potential that shooting in foreign cities offers.
---